News
Ceremony Video to Honor 2023 Laureate, Sir David Alan Chipperfield CH
November 14, 2023
The Pritzker Architecture Prize releases a special ceremony video honoring 2023 Laureate, Sir David Alan Chipperfield CH, available now on pritzkerprize.com.
"A better and more beautiful world must focus on the challenges of environment and equality. Architectural achievement independent of these concerns will have less meaning, which I believe will affect our very sense of what we will judge to be beautiful," remarks the 52nd Laureate during the May 24th ceremony. "We must become increasingly committed to the idea that architecture has purpose, and that the architectural community can play a bigger role in the way we plan our future."
The documentary-style video, celebrating the 45th year of the Pritzker Prize, features speeches by Chipperfield; Mareva Grabowski; Tom Pritzker, Chairman of Hyatt Foundation; and Alejandro Aravena, Jury Chair and 2016 Laureate.
An emotional Chipperfield begins by emphasizing collectivism and individually acknowledging the leadership teams of his five international offices in London, Berlin, Milan, Shanghai and Santiago de Compostela, and his non-profit research initiative in Galicia, to an ovation. "My debts are enormous. I'm thankful for this prize but even more thankful for the wonderful journey that got me here…Architectural practice depends not only on creative talent but just as much on the collaboration of individuals within the studio and without. It has been a journey of privilege."
Held at the Ancient Agora of Athens, the location served as a gathering place for social, religious, cultural and political assembly over many millennia since the Neolithic period; hosted philosophers Socrates, Plato, Diogenes of Sinope and Crates of Thebes; and symbolized democracy and citizenship throughout history. Tom Pritzker, Chairman of Hyatt Foundation, reflects, "It's not just the Jury of the Pritzker Prize that honors him. It's this very place that honors him…Sir David is an architect of his time and of his place, in whom old images still live."
Previous Pritzker Laureates, Rafael Moneo (1996); Norman Foster (1999); Rafael Aranda, Carme Pigem, and Ramon Vilalta (2017); Yvonne Farrell and Shelley McNamara (2020); Anne Lacaton and Jean-Philippe Vassal (2021); and Francis Kéré (2022) discuss the timelessness, harmony and discerning qualities of the architect's projects, as they recall personal experiences within Chipperfield's buildings, which span over four decades and more than one hundred projects throughout Asia, Europe and North America. "If I was to use one word [to describe Chipperfield's work], it would be 'classical'. I think that's really refreshing and it's a really solid presence in contemporary work – that somebody makes work that has that classical sense of the ancient past and tradition, and look[s] to the future," says Shelley McNamara.
Jurors Barry Bergdoll, Deborah Berke, Stephen Breyer, André Corrêa do Lago, Kazuyo Sejima (2010 Laureate) Benedetta Tagliabue and Wang Shu (2012 Laureate), alongside Manuela Lucá-Dazio, Executive Director, lend their insights into the impact and legacy of Chipperfield's prolific work. Berke shares, "I would describe his work as a brilliant constant. David Chipperfield's work is so elegant and so subtle…We don't need flashes of bravado everywhere. We actually need elegance and understatement everywhere."
The 2023 ceremony also marks the end of service for Tagliabue, as she retires from the Jury after nine seasons. "Composed by a diversity of backgrounds, from patrons to practitioners, from scholars to critics, the Jury has benefited from Benedetta's contributions through her lens of the profession," comments Aravena. "She has expanded our horizons, consistently bringing to the Jury's attention, trends, practices and realities that may have otherwise escaped our radar, and with such grace."
The 2024 Laureate will be announced next March, commemorating the 46th edition of the Prize.
###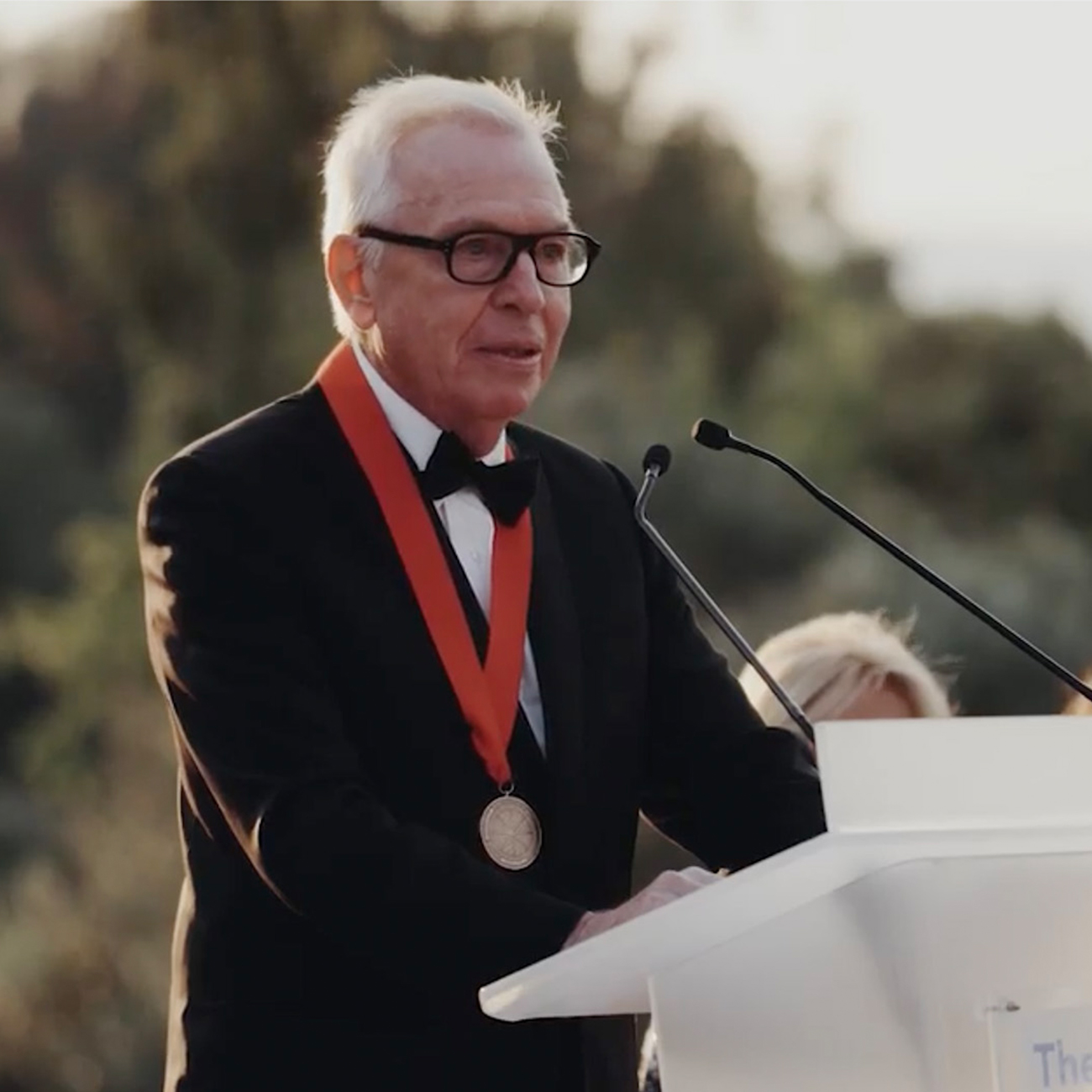 For more information about The Pritzker Architecture Prize, please contact:
Eunice Kim
Director of Communications
The Pritzker Architecture Prize
[email protected]