Close
The Royal Academy of Fine Arts of San Fernando, Madrid, Spain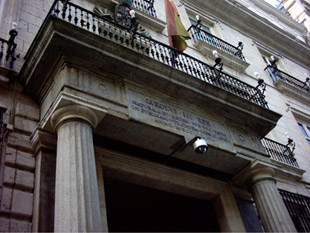 His Majesty King Juan Carlos I of Spain presided over the ceremony honoring Jørn Utzon of Denmark as the 2003 Pritzker Architecture Prize Laureate. The ceremony took place in the Royal Academy of Fine Arts of San Fernando in Madrid on Tuesday, May 20, 2003.
The Royal Academy is one of the most important museums in Madrid with an outstanding collection of European and Spanish paintings, sculptures, drawings, and prints from the sixteenth to the twentieth centuries. The institution, founded in 1752, was moved to its current site in 1774, originally a palace with a Baroque façade. Redesigned in the neoclassical style by architect Juan de Villanueva, architect of the Prado Museum and other important buildings of the eightieth century, the Royal Academy has remained in this building to the present.
The guests assembling from around the world for the Pritzker Prize had an opportunity to see some of the Academy's fine art collection. There are five remarkable Zurbarán life-size portraits of monks, as well as several still-life paintings. There are also works by Velázquez, Rubens, and Goya, to mention a few. The Academy, home to the national print collection, is Spain's most important center for the study of art printing processes, such as engraving and etching. Some of Goya's copper plates (among 8000 printing plates archived there) are displayed in rotating exhibitions.