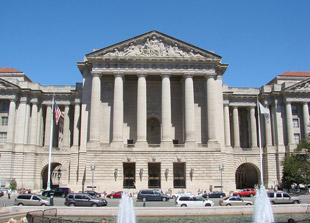 Mellon Auditorium, Washington D.C.
The Mellon Auditorium, located within Washington D.C.'s monumental Federal Triangle, is the site of the 2011 Pritzker Architecture Prize Ceremony. Since its inauguration in 1935, the auditorium has provided a magnificent setting for many important functions.
Originally known as the Department Auditorium, the building was renamed to honor Secretary of Treasury Andrew W. Mellon who was a supporter of planning efforts for the Federal Triangle, a 24-block area of the city, and a proponent of a unified aesthetic for government buildings in Washington, D.C.
The auditorium is the centerpiece that sits between two office buildings (Interstate Commerce Commission and Department of Labor–now the Environmental Protection Agency). San Francisco architect Arthur Brown, Jr. (1874-1957), who studied in Paris at the École des Beaux-Arts, designed the three-building group in a neo-Classical style. The great portico of the auditorium building—with its six Doric columns—supports a pediment depicting carvings of the goddess Columbia, once a symbol for the United States. Colonnades link the auditorium to the buildings on the east and west to form a unified and majestic whole. As with many government buildings, the seven-story Mellon Auditorium is clad with Indiana limestone. The grand interior, which seats 2,500 and rises to four stories, features Doric columns, gilded relief carvings, and polished oak woodwork.
Architect Brown is also known for other notable buildings. With professional partner, John Bakewell, they won a competition in 1912 to design the San Francisco City Hall and were hired as design architects and master planners for Stanford University in 1913. Later Brown, with his own firm, designed Pasadena City Hall (1928), Coit Tower, San Francisco (1932) and St. Mark's Cathedral, Seattle (1934) among others.