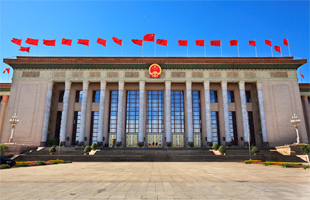 Great Hall of the People, Beijing, The People's Republic of China
Located at the western edge of Tiananmen Square in Beijing, the imposing Great Hall of the People is used for legislative and ceremonial activities. Completed in 1959, this building is one of the "Ten Great Constructions" built to commemorate the 10th Anniversary of the People's Republic of China. Tiananmen Square, while historically a gate to the city, became the symbolic birthplace of the People's Republic of China in 1949 when Mao rose to power. In the following years, it was greatly expanded to include new buildings—the Great Hall of People and the Museum of History (now National Museum of China) and a new memorial monument located in the center of the square.
Designed by architect Zhang Bo, and constructed in less than a year, the Great Hall of the People uses an architectural vocabulary of Chinese architectural tradition mixed with classicism. The flat roof has a cornice decorated with yellow tiles set above green lotus petal shaped eaves. The tripartite granite building is comprised of three sections including a stately central structure flanked by extensive lower wings on either side. The main façade, featuring massive marble columns, each resting on a decorated base of a darker color, measures over 100 feet (325 meters) long. The whole complex contains about 1,850,000 square feet (over 170,000 square meters).
The interior spaces are numerous and many are enormous. By some counts the complex contains over 300 meeting halls, lounges and offices. The Great Auditorium, which seats over 10,000 people between the main floor, balcony, gallery and dais, features a large red star surrounded by a galaxy of lights in the ceiling. The State Banquet Hall can accommodate 5,000 diners—a fact that was proved during Richard Nixon's visit to China in 1972.
The official ceremony for the 2012 Pritzker Architecture Prize will be held in the Great Hall of the People.