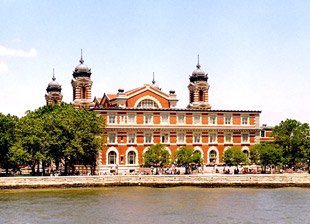 Ellis Island
The recorded history of Ellis Island dates back to the 1600s when it was called Gull Island and only about 2½ acres in size. At various times, it has served as a fort, munitions deport, and detention center, but it is most famous for its role as a port of entry for 12 million U.S. immigrants. The 27-acre landmass we see today, with its main reception building and other support facilities, has its roots in the early 20th century.
In 1897 after the first immigration facilities burned down, an architectural competition was held between five firms, including McKim Mead and White, to create a new and more complete immigration center. New York firm Boring and Tilton designed the winning entry. The architects, who trained in the U.S. and Paris, proposed a main reception building in a French Renaissance style, along with other buildings for a kitchen, laundry, and hospital. They also took into account the landscape plan, calling for the creation of a new island to the south, a ferry slip, and extensive ornamental plantings laid out in a Beaux Arts style.
A year later, The New York Times magazine announced the ideas for the new building: "The immigration station on Ellis Island ... will be a palace 386 feet in length and 162 feet in width, with towers rising to the height of 120 feet at their apexes of gilded copper, and entrance arches 40 feet to the keystone. Owing to the tides, the first floor will be eight feet above the present level of the island, so that on calm days the structure will mirror itself on the smooth waters of the bay. The main body of the building will be of red brick, the corners of the towers and buildings and the framework of the windows will be a broad ashlar of gray limestone, while the roofs will be of green copper." The most impressive room in the building was the registry room, which went into service in 1900. It measured 200 feet by 100 feet and had a grand, 56-foot vaulted ceiling. In 1905-06 a third island, measuring five acres in size, was created.
In 1954, Immigration Services closed Ellis Island. In 1965, the Island was declared part of the Statue of Liberty National Monument and was opened to the public on a limited basis until 1984. During the past 30 years, Ellis Island has undergone major architectural and engineering efforts funded by both public and private entities, and today the main reception building is the Ellis Island Immigration Museum. This May, the 2010 Pritzker Architecture Prize ceremony and dinner will take place at this significant and historic site.