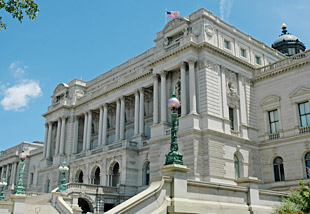 The Thomas Jefferson Building of the Library of Congress, Washington D.C.
The Library of Congress building, today known as the Thomas Jefferson Building, was opened in 1897 and touted as "the largest, the costliest, and the safest" library building in the world and a national temple to the arts.
In response to the rapid and substantial growth of the holdings and mission of the Library, a competition for the design of a new Library building was held in 1873. After many proposals and much controversy, construction of a new Library building was authorized in 1886, using designs inspired by the Italian Renaiassance prepared by Washington architects John L. Smithmeyer and Paul J. Pelz. Others later involved in the design and construction included General Thomas Lincoln Casey, chief of the Army Corps of Engineers, his chief assistant Bernard R. Green, and beginning in 1892, his son, Edward Pearce Casey, who supervised the interior work and its elaborate decoration.
Striking architectural features of this Beaux-Arts building include the double staircase rising to the arcaded entrance, the pairs of giant columns supporting the portico, and the dome of copper crowning the building. The scale of the Library matched that of the largest libraries in Europe of its time.
The 2008 Pritzker Architecture Prize used the Great Hall for much of the celebration. This space, constructed of white Italian marble, rises 75 feet high. Two grand staircases flank the hall and lead to the upper level where the dinner was held. The colorful interior decoration, undertaken by numerous American painters and sculptors, is akin to the ornate and classically inspired decoration used at the "Great White City"—the Columbian Exposition of 1893 in Chicago.