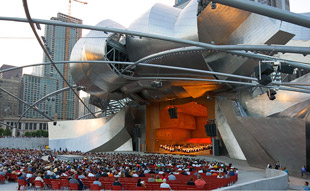 The Jay Pritzker Pavilion, Chicago, Illinois
Stainless steel ribbons soar and twist to create an urban scale sculpture that is the Jay Pritzker Pavilion—an outdoor concert venue, and the site of many music festivals, concerts and other events in Millennium Park, Chicago. Constructed between 1998 and 2004, the 24-acre park in the heart of the city reflects the successful partnership between the city and the private sector. Those efforts enabled Millennium Park to become an unprecedented combination of distinctive architecture, monumental sculpture, and innovative landscaping by world renowned artists and designers.
The Jay Pritzker Pavilion, designed by architect Frank Gehry, is named in honor of the Chicago business leader, who with his wife Cindy founded the Pritzker Architecture Prize. The Pavilion, using Gehry's signature sculptural style, rises 120-feet high with the curving brushed stainless steel forms framing the stage, which can accommodate 120 musicians and a choral terrace of up to 150 performers. The backstage area is shared with the nearby Joan W. and Irving B. Harris Theater for Music and Dance. A steel structure fans out over the 4,000 fixed seats and the Great Lawn creating a trellis to support a state-of-the-art sound system.
The 2005 Pritzker Architecture Prize ceremony was open to all who wished to attend. It consisted of welcoming remarks by Chicago's Mayor Richard M. Daley and speeches by Lord Palumbo, Chair of the Jury, Thomas J. Pritzker, President of the Hyatt Foundation, and the new laureate, Thom Mayne. The ceremony was followed by a reception and dinner on the terrace to the north of the Jay Pritzker Pavilion.