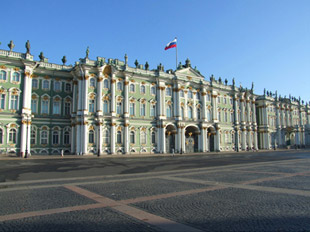 The State Hermitage Museum, St. Petersburg, Russia
The unique architectural ensemble of the State Hermitage Museum is formed by several magnificent buildings situated along the embankment of the River Neva, in the heart of St. Petersburg. The Winter Palace, the centerpiece of the complex, which served as residence of the Russian tsars, was designed and built by Francesco Bartolomeo Rastrelli in 1754-62. More buildings were added to the ensemble in the eighteenth and nineteeth centuries, such as the Great Hermitage, the Small Hermitage, the eastern wing of the General Staff building, and the Menshikov Palace.
The museum was founded in 1764 when Empress Catherine the Great purchased a collection of 225 Flemish and Dutch paintings from the Berlin merchant Johann Ernest Gotzkowski. It is estimated that by 1800 the collections contained 4000 works. The imperial Hermitage was proclaimed property of the Soviet state after the Revolution of 1917. Today, the Hermitage holdings, which have grown continuously, number over 3,000,000 works. Together form an encyclopedic collection of the development of culture and art from the Stone Age to the twentieth century. Strengths of the Hermitage collection of Western art include Michelangelo, Leonardo da Vinci, Rubens, van Dyck, Rembrandt, Poussin, Claude Lorrain, Watteau, Tiepolo, Canaletto, Canova, Rodin, Monet, Pissarro, Renoir, Cézanne, van Gogh, Gauguin, Picasso, and Matisse. Also noteworthy are the collections of Russian imperial regalia, Fabergé jewelry, and the largest existing collection of ancient gold from Eastern Europe and Western Asia.
The 2004 Pritzker Architecture Prize ceremony honoring Zaha Hadid, with the participation of the Director of the Hermitage Museum, the Governor of St. Petersburg, the Minister of Culture and Mass Communication of the Russian Federation, Lord Rothschild, Chair of the Jury, Thomas J. Pritzker, President of the Hyatt Foundation, and Zaha Hadid.