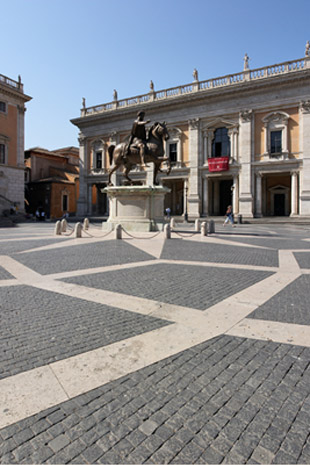 Michelangelo's Campidoglio, Rome, Italy
The Capitoline Hill or Campidoglio is the smallest of Rome's seven hills, but it was the religious and political center of the city since its foundation more than 2500 years ago.
A few years after he arrived in Rome, Pope Paul III (born Alessandro Farnese) decided to reshape the Capitoline Hill into a monumental civic piazza; Michelangelo designed the project and his Piazza del Campidoglio is one of the most significant contributions ever made in the history of urban planning. The hill's importance as a sacred site in antiquity had been largely forgotten due to its medieval transformation into the seat of the secular government and headquarters for the Roman guilds. Michelangelo took charge of reorganizing the area as a dynamic new center of Roman political life. His design included not only the piazza or open square, but also redesign of the Palazzo Senatori, a new façade for the Palazzo dei Conservatori and opposite it, the new Palazzo Nuovo. The project went forward slowly and in stages with many interruptions. It was begun in 1538, little was completed before Michaelangelo's death in 1564, and the entire project was not completed until the seventeenth century.
The 2002 ceremony counted with the participation of the Mayor of Rome, the Undersecretary of the Minister of Fine Arts and Cultural Affairs, Bill Lacy, executive Director of the Pritzker Prize, Thomas J. Pritzker, President of the Hyatt Foundation and Glenn Murcutt, Pritzker Prize Laureate.