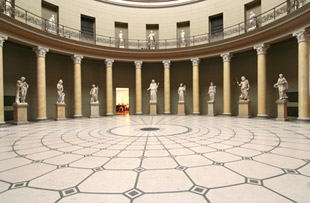 Altes Museum, Berlin, Germany
The Pritzker Architecture Prize award ceremony for 1999 was held at the Altes Museum on the Museum Island in Berlin. It was followed by a reception in another significant space, the New National Gallery by Mies van der Rohe. Finally, the formal dinner took place in the Hyatt Hotel, designed by 1996 Pritzker Laureate Rafael Moneo.
The Altes Museum, designed by Freidrich Schinkel (1781-1841) architect, painter, and stage designer, is located on a prominent site in the heart of Berlin. When built, the relationship with surrounding buildings was not only one of position and scale but highly symbolic as it faced the Royal Palace and was flanked by two churches. When opened in 1830, it was one of the most influential buildings of its time. It was also one of the earliest buildings specifically designed for the public display of works. Employing a neoclassical vocabulary, the imposing building uses 18 Ionic columns to line the front façade, creating a colonnade to lend grandeur to the museum. The central rotunda, which Schinkel reverently called a pantheon, is an inspiring space in which the Pritzker Architecture Prize Ceremony took place.
The 1999 award ceremony included the participation of Eberhard Diepgen, Mayor of Berlin, Wolfgang Thierse, President of the German Parliament, J. Carter Brown, Chair of the Pritzker Architecture Prize Jury, Thomas J. Pritzker, President of the Hyatt Foundation and Sir Norman Foster, 1999 Laureate.