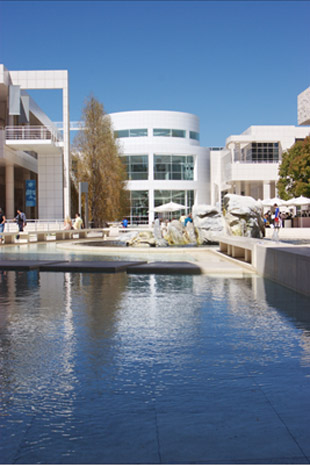 The Getty Center, Los Angeles, California
The Getty Center sits on a hilltop in the Santa Monica Mountains from which visitors see the disparate aspects of Los Angeles's landscape—the Pacific Ocean, the San Gabriel Mountains, and the vast street-grid of the city. Inspired by the relationship between these elements, architect Richard Meier designed the complex to highlight both nature and culture.
The two naturally occurring ridges are used to organize the buildings that make up the complex. The Museum houses the Getty collections of European paintings, drawings, sculpture, illuminated manuscripts, and decorative arts as well as European and American and European. In addition to the five pavilions for art, a circular building houses the Getty Research Institute (GRI), used primarily by Getty scholars, staff, and visiting researchers. Two buildings to the north and east of the Arrival Plaza house the Getty Grant Program, the Getty Conservation Institute, and the J. Paul Getty Trust administration offices.
Views, light and a rich variety of spaces are guiding principles of the architecture of the Getty. The five galleries, offices, and the auditorium lead out to courtyards and terraces. Much of the buildings are clad in a warm beige travertine, a stone chosen for this project because it is often associated with public architecture and expresses qualities the Getty Center celebrates: permanence, solidity, simplicity, warmth, and craftsmanship.
The 134,000-square-foot Central Garden at the Getty Center was designed by artist Robert Irwin. The design of the Central Garden highlights the changing seasons and re-establishes the natural ravine between the Museum and the Research Institute for the History of Art and the Humanities with a tree-lined walkway.
The Getty Center opened in December 1997, however the Pritzker Architecture Prize ceremony of 1996 was held there. An outdoor reception on one of the terraces was followed by the presentation ceremony inside what was to be a future restaurant space. Speakers included Harold Williams, then president and CEO or the Getty Trust, Richard Meier, architect, and for the Pritzker Architecture Prize, Bill Lacy, J. Carter Brown and Jay Pritzker. Rafael Moneo pronounced an acceptance speech. The dinner followed and was held in an outdoor space in a courtyard of the Museum temporarily covered by a transparent tent.