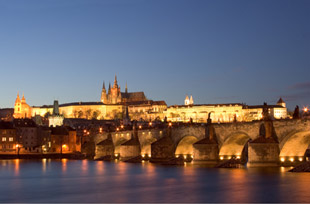 Prague Castle, Prague, Czech Republic
Prague Castle is a sprawling complex situated atop a large hill on the left bank of the Vltava River. Dating back to the nineth century, several castles have occupied the site of the current Prague Castle, which today is the seat of the President of the Czech Republic, and serves as the historical and political center of both the city and state.
A Romanesque palace was erected there in the twelfth century that was rebuilt in the Gothic style in the fourteenth century, during the rule of Charles IV. The Royal palace was re-built to the current shape under the ruling Jagellos dynasty at the end of the fifteenth century. At that time, renowned architect, Benedikt Rejt, added the now-famous Vladislav Hall, also in the Gothic style. The castle was enlarged in the sixteenth century. The Spanish Hall, in a new part of the castle, was added during the reign of Rudolf II. Prague Castle took on a classical appearance in the eighteenth century, which it maintains today, during the reign of Empress Maria Theresa, under the direction of architect Nicolò Pacassi. After World War I, the gardens and the interior of the castle were renovated by Slovene architect Jože Plečnik. From 1920 until 1934, he completed numerous projects at the castle, including the renovation of numerous gardens and courtyards, the design and installation of monuments and sculptures, and the design of numerous new interior spaces, including the Plečnik Hall completed in 1930, which features three levels of abstracted Doric colonnades.
Speakers at the official presentation ceremony of the 1993 Pritzker Architecture Prize were: Václav Havel, President of the Czech Republic; Milan Udhe, President, Chamber of Deputies, Parliament of the Czech Republic; Adrian A Basora, US Ambassador ; Bill Lacy, Secretary to the Jury; J. Carter Brown, Chairman of the Jury; and Jay A. Pritzker, President The Hyatt Foundation.