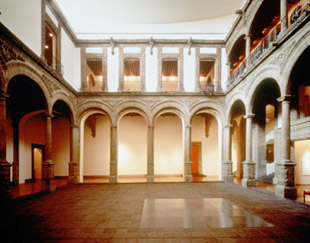 Palacio de Iturbide, Mexico City, Mexico
El Palacio de Iturbide, located in the historical center of Mexico City, was designed by architect Francisco Guerrero y Torres and completed in 1785. The palace is an adaptation of the Spanish Barroque, as built in the New World. It is considered a masterwork of civil architecture of its period due to the richness of materials and sumptuous detailing. It is also the only eighteenth century Mexican residence to have four floors. The immense interior patio, recalling Italian villas, is defined by eighteen arches resting on Tuscan columns.
The palace takes its name from Agustin Iturbide, an important military and political leader (and first, but brief, Emperor of Mexico). The house was given to him in 1821 to served as his residence until 1823. Over the years the building has experienced many uses, including hotel, offices, and workshops. It was declared a national monument in 1931. Finally, the Palace of Iturbide was acquired in 1972 by Banamex, the National Bank of Mexico, and since then has been restored and used for important cultural activities.