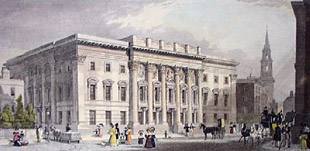 Goldsmiths' Hall, London, England
Since the fourteenth century, the Goldsmiths' Company, originally founded to regulate the trade, has been responsible for testing the quality of gold, silver and, from 1975, platinum articles. Its headquarters, on the same site in London since 1339, is near St. Paul's Cathedral. The magnificent Goldsmiths' Hall opened in 1835 and was designed by architect Philip Hardwick. Although there have been some changes to the decorative schemes and functions over the years, Goldsmiths' Hall remains much as Hardwick envisioned it. The Hall narrowly escaped complete destruction during World War II, but has been faithfully restored on the exterior after the War, retaining much of its charm as an urban palazzo.
The Livery Hall, the largest room in Goldsmiths' Hall, was the site of the 1986 Pritzker Architecture Prize award ceremony. This magnificently proportioned room is striking due to its Corinthian columns of scagliola and richly decorated moulded ceiling. There are four matching chandeliers of English glass, supplied by Perry and Co. in 1835, now electrified internally, each holding forty-eight candles. Participating in the Ceremony were: the Duke of Gloucester, Carter Brown, Chair of the Jury, Brendan Gill, Secretary to the Jury, Jay Pritzker, President of the Hyatt Foundation, and giving his acceptance speech, Gottfreid Böhm, the eighth Pritzker laureate.