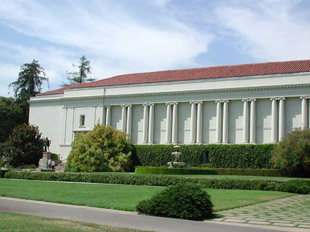 The Huntington Library, Art Collections and Botanical Gardens, San Marino, California
The Huntington Library, Art Collections, and Botanical Gardens are located twelve miles from Los Angeles near Pasadena, California, in the city of San Marino. It is a private, nonprofit research and educational center set amidst 120 acres of breathtaking gardens. Three art galleries and a library showcase magnificent collections of paintings, sculptures, rare books, manuscripts, and decorative arts. The botanical collection features over 14,000 different species of plants. 
Originally the residence of Henry E. Huntington (1850-1927), the main house was designed by Los Angeles architects Myron Hunt and Elmer Grey. It was built during the years 1909-1911 with the Main Gallery added in 1934. Most of the interiors are modeled on French and English rooms of the eighteenth century. Noted landscape designer, Beatrix Farrand, collaborated on the grounds designs of the 1930s, which reflect themes from around the world.
Henry Huntington, a key figure in the railroad and real estate development of Southern California in the early twentieth century, was also an active collector of rare books and manuscripts, art, and plants.  By the time he established the institution in 1916, he and his wife, Arabella, had amassed an extensive collection focusing on British and American history, literature, and art, as well as rare and spectacular plant specimens. Opened to the public in 1928, the institution today serves scholars conducting advanced research in the humanities.  The library's rare books and manuscripts constitute one of the world's largest and most extensively used collections in America outside of the Library of Congress.
The 1985 ceremony and dinner celebrating the awarding of the seventh Pritzker Architecture Prize took place on the spectacular and historic grounds of the Huntington.