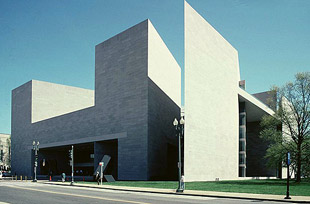 The National Gallery of Art, Washington, D.C.
The National Gallery of Art in Washington, D.C. was created in 1937 by a joint resolution of Congress, accepting the gift of financier and art collector Andrew W. Mellon. The paintings and works of sculpture given by Andrew Mellon upon his death in 1937 have formed a nucleus of high quality around which the collections have grown. Funds for the construction of the West Building were provided by The A.W. Mellon Educational and Charitable Trust. On March 17, 1941, President Franklin D. Roosevelt accepted the completed building and the collections on behalf of the people of the United States of America.
The Gallery's East Building, located on land set aside in the original Congressional resolution, was opened in 1978. Designed by Pritzker laureate I.M. Pei, the dramatic geometry responds well to the imposing 1941 West Building, which is situated across a plaza. To correspond in texture and color to the original building, the new one is faced inside and out with lavender-pink marble from the same quarry in Tennessee. Bridges and mezzanines create powerful vertical spaces throughout the East Building. When visitors leave one exhibition, they return to the atrium before entering another one. The triangular layout of the floor plan generates a sense of exploration. The atrium's indoor garden, which is larger than one-third of an acre, is roofed by a "space-frame" of glass pyramids. It was in this impressive space that the 1984 Pritzker Architecture Prize ceremony, honoring Richard Meier, was held.