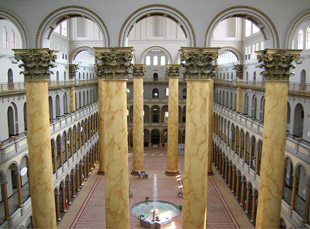 National Building Museum, Washington, D.C.
The Pritzker Architecture Prize ceremony of 1981, honoring James Stirling, was held in Washington, D.C. in the Pension Building, now the National Building Museum. The red-brick building was designed in an Italianate Renaissance Revival style in 1881 by civil engineer and U.S. Army General Montgomery C. Meigs (1816-1892) and completed in 1887. It was originally envisioned as both office space and as a monument to those who died fighting in the U.S. Civil War. In 1980 an Act of Congress designated the Pension Building as the site of a new museum celebrating American achievements in the building arts.
The massive building, measuring 400 feet by 200 feet, occupies an entire city block in downtown Washington, D.C. The lower exterior facades are modeled after Antonio da Sangallo's Palazzo Farnese in Rome. The exterior walls are composed of common brick faced with pressed brick, decorative masonry, and ornamental terra cotta. In commemoration of war heroes, Caspar Buberl (1834-1899) sculpted a 1200-foot terra cotta exterior frieze, which wraps the building, depicting the Union's Army and Navy.
The interior plan of the Pension Building is dominated by a full-height hall or atrium at the center, with interconnecting rooms at the perimeter. The Great Hall measures 316 feet by 116 feet, and 159 feet tall (approximately 15 stories) at its highest point. The eight Corinthian columns of the Great Hall are among the tallest in the world at 75 feet high, 8 feet in diameter, 25 feet in circumference and crowned by a molded plaster capital and an abacus of cast iron. Each is built of 70,000 bricks.
The building is widely recognized as a marvel of engineering. An ingenious system of windows, vents, and open archways allows the Great Hall to function as a reservoir of light and air. The impressive Great Hall is used for the most important gala events, including many Presidential Inaugural Balls, from 1885 to the present day.