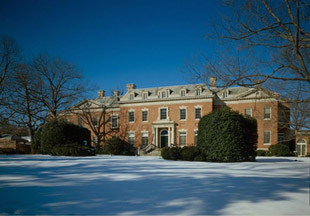 Dumbarton Oaks, Washington, D.C.
Dumbarton Oaks is a wonderful refuge in the Georgetown neighborhood of Washington, D.C. Buildings on the grounds include the ninetieth century Georgian style mansion, built in the early 1800s with subsequent additions and modifications made throughout the twentieth century. The Museum of Pre-Columbian Art (1959-1963) consisting of eight circular galleries, designed by architect Philip Johnson, is widely considered among the architectural masterworks of the twentieth century.
In 1920, diplomat Robert Bliss and his wife Mildred, prominent art collectors, developed Dumbarton Oaks, their estate from 1920-40. The rough grounds were transformed into gardens with elements of French, English, and Italian formal gardens, however combined in a distinctive way by Beatrix Jones Farrand, who also worked on the private gardens of John Rockefeller, Jr. and the grounds at Yale University.
In 1940, the Blisses conveyed Dumbarton Oaks, together with a specialized art research library of 50,000 volumes and a collection of medieval and Byzantine art, to Harvard University. Today, the Dumbarton Oaks Research Library and Collection is an international center for scholarship, providing resources for Byzantine, Pre-Columbian, and Garden and Landscape Studies. Begun as a private collection by the Blisses in 1920, the library and collections include art, objects, artifacts, manuscripts, and rare books.
Because the Blisses were also lovers of music, they built a Music Room at the main house and hosted private concerts there, including several by musician friends, including Jan Paderewski and the composer Igor Stravinsky. The ceremonies for the 1979 and 1980 Pritzker Architecture Prize were held in this space.