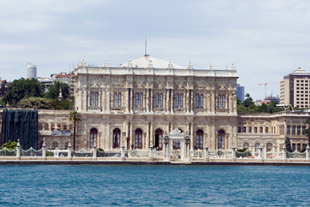 Dolmabahçe Palace, Istanbul, Turkey
The Dolmabahçe Palace on the European shore of the Bosphorus in Istanbul is a fitting symbol of the nineteenth century Ottoman Empire. The word "Dolmabahce" in English means "the filled garden," an appropriate name for the palace sited on land reclaimed from the sea. Built between 1843-1856, the architecture of the palace reflects a blend of various European styles with strong influence from France. This and other palaces, kiosks and summer residences for the Sultans were designed by the Balyan family of court architects. Some members of this Armenian family trained in Europe. Upon completion, the Sultans moved to Dolmabahce Palace and never resided again at Topkapi Palace, which had hosted them for nearly four centuries.
The three-storied Dolmabahçe Palace has a symmetrical plan with over three hundred rooms and halls. The entrance section of the palace was used for the receptions and meetings of the Sultan. The middle is the large ballroom, and the wing behind it, was used as the harem. There are two monumental gates, one, on the land side, is extremely ornate. Beautiful gardens surround this seaside palace. This palace holds special significance for Turks as Mustafa Kemal Atatürk, the founder of modern Turkey, died here on November 10, 1938.
The 2006 Pritzker Architecture Prize ceremony began with a reception and tour of the Palace, followed by the ceremony and dinner on the grounds. Participants in the official ceremony were the Prime Minister of Turkey, the Mayor of Istanbul, and representing the Pritzker Architecture Prize, Martha Thorne, Executive Director, Lord Palumbo, Chair of the Jury, and Thomas J. Pritzker, President of The Hyatt Foundation. Paolo Mendes da Rocha, as is customary of all laureates, pronounced an acceptance speech.