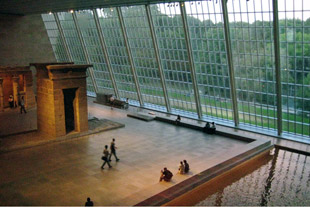 The Metropolitan Museum of Art, New York, New York
The Metropolitan Museum of Art, the world-renowned cultural institution, was founded in New York in 1870 and moved to its current site in Central Park ten years later. The original Gothic-Revival-style building has expanded greatly in size since then, and the various additions now completely surround the original structure. The present facade and entrance structure along Fifth Avenue were completed in 1926.
The Sackler Wing (1978), designed by Kevin Roche, located to the north of the original building, is a striking addition, which houses the Temple of Dendur. The temple, built in 22 C.E., was dismantled and removed from its original site, in 1963, in order to save it from being submerged by the construction of the Aswan High Dam. In recognition of the American assistance in saving various other monuments threatened by the dam's construction, the temple was given to the United States of America by Egypt. In 1967, the temple was awarded to The Metropolitan Museum of Art, where it was installed in the Sackler Wing in 1978. A reflecting pool in front of the temple and a sloping wall behind it, represent the Nile and the cliffs of the original location. The glass on the ceiling and north wall of the Sackler is stippled, in order to diffuse the light and mimic the extraordinary quality of light in Nubia. The simplicity of its setting, like a minimal frame on a painting, gives the temple a context which does not overwhelm it.
The 1983 Pritzker Architecture prize ceremony, honoring I.M. Pei, took place in this setting.